Endodontics Treatment
Book your consultation today
Endodontics Treatment
Book your consultation today
Endodontics is a specialist branch of dentistry that focuses on the dental pulp inside of our teeth.
If you have an abscess or significant tooth pain that isn't going away, it could be that the pulp of the tooth has become inflamed. This may be caused by decay, a crack or previous dental work.
A specialist endodontist is trained to treat these problems and relieve discomfort. We use the latest technologies, including high resolution 3D imaging and high-powered microscopes, to provide treatment of the highest accuracy.
Endodontists are specialists in saving teeth, committed to helping you maintain your natural smile for a lifetime. Their advanced training, specialised techniques, and superior technologies mean you get the highest quality care with the best result — saving your natural teeth!

You may or may not be aware that endodontists perform root canal treatments, and they handle many other endodontic treatments and surgeries, address traumatic dental injuries, and place dental implants. The goal is to save your natural teeth whenever possible, however, an endodontist will look at all treatment options to determine the best course of action for your individual case.
What is involved in Root Canal Treatment?
Conventional endodontic treatment is a highly skilled procedure that involves gaining access to the pulp chamber and root canals of the tooth. The fine root canals need to be enlarged to allow cleaning solutions and medicaments to be placed in the canal space. A suitable rubber-based filling material can then be placed in the prepared root canal. This filling material provides a seal, preventing bacteria re-entering the tooth to cause another infection.
Who performs Root Canal Treatment?
All dentists are trained to carry out simple root canal treatment during their undergraduate dental training. Some dentists develop a special interest in endodontics and gain further training to manage the more complex cases.
An Endodontist is a specialist that has undergone a formal training period leading to a post-graduate qualification in Endodontics. Specialists in Endodontics usually limit their practice to endodontics and are registered on the General Dental Council's list of Dental Specialists in the UK
Why have I been referred to a Specialist in Endodontics?
Many general dental practitioners refer to specialists either for advice or because the case is so complicated that it requires specialist skills for a more predictable outcome. Indeed, studies have shown that success rates for first time endodontic treatment can be 85-96% in the hands of a specialist.
The majority of cases that are referred to a specialist are those where previous attempts at root canal treatment have failed. Success rates for such re-treatment cases are usually in the region of 80%, in the hands of a specialist.
By referring to a specialist, He/She wants to give you the opportunity to have the best chance of laying a good foundation for your tooth.
In addition to root canal treatment or re-treatment, you may also be referred to see a specialist in Endodontics for the following:
Differential diagnosis and treatment of oro-facial pain of dental origin
Prevention of pulpal disease and vital pulp therapy
Surgical endodontics
Bleaching of endodontically treated teeth
Treatment procedures related to the restoration of teeth such as post/core preparations, crown lengthening and forced eruption
The treatment of traumatised teeth (teeth that have fractured or knocked out of alignment).
Is Root Canal Treatment painful?
With modern techniques and anaesthetics, most patients report that they are comfortable during the procedure. You will be surprised to find that our Endodontist has the ability to help you relax to the extent that many patients actually fall asleep at some point during the procedure!
For the first few days after treatment the tooth may feel sensitive or 'bruised', especially if there was pain or infection before the procedure. This discomfort can be relieved with over-the-counter analgesics (such as Ibuprofen or Paracetamol) or prescription medications.
If you have severe pain that starts after three to four days of mild discomfort following root canal treatment, contact Angle House immediately.
There is a common misconception that root canal treatment is very painful. There are certain situations, for example when a nerve is inflamed, that require a different approach to treatment. Our Endodontist have the skill and expertise to manage such situations with minimal discomfort.
Will the tooth need any special care or additional Treatment?
You should avoid biting on the root treated tooth until you have it restored back to function by your dentist. The un-restored tooth is susceptible to fracture so you should see your dentist as soon as possible following the completion of root canal treatment.
How long will my Root Filling last?
A root treated tooth should last as long as a natural tooth, provided that the root filling and the crown of the tooth are well maintained. Occasionally the tooth may become painful or re-infected (new decay or trauma) months to years after successful treatment. When this is the case, the root filling may be revised.
In a few cases, a tooth that has undergone endodontic treatment fails to heal or the pain continues. Such cases require additional endodontic treatment (such as endodontic surgery) to save the tooth.
Can all teeth be Root Treated?
Most teeth can be root treated, provided there is enough tooth structure for the tooth to be restored. Occasionally root canals may not be accessible which could render root canal treatment impossible. However, such cases may be managed by surgical endodontics.
What is Endodontic Surgery?
When a root canal cannot be treated in the usual manner, a surgical approach may be adopted. This involves getting access to the roots of the teeth from the bone by lifting up the gum around the tooth, removing a little bone to gain access to the roots of the tooth and removing the part of the root that is diseased.
There are four main surgical procedures that may be carried out:
Incision & Drainage- making a hole in the gum or bone to 'drain' a large infection
Apicectomy- removal of the root tip.
Root Resection- removal of one root in a tooth with multiple roots.
Tooth Resection- removal of roots and part of the crown in multi-rooted teeth (cutting the tooth in half).
What are the alternatives to Endodontic Treatment?
The only alternative to endodontic treatment is to have the tooth extracted. The remaining space must be restored with a denture, a bridge or an implant. These procedures can be far more costly and time consuming than endodontic treatment and the restoration of your natural tooth.
No matter how effective modern tooth replacements are – and they can be very effective – nothing is as good as your natural tooth.
How much will the Treatment cost?
The cost of the endodontic treatment will vary depending upon your needs. After your endodontic has examined you and determined the appropriate treatment, he or she can provide you with an estimate of the cost.
Where can I get this Treatment?
You can receive this treatment at our Harrow or Ealing practice.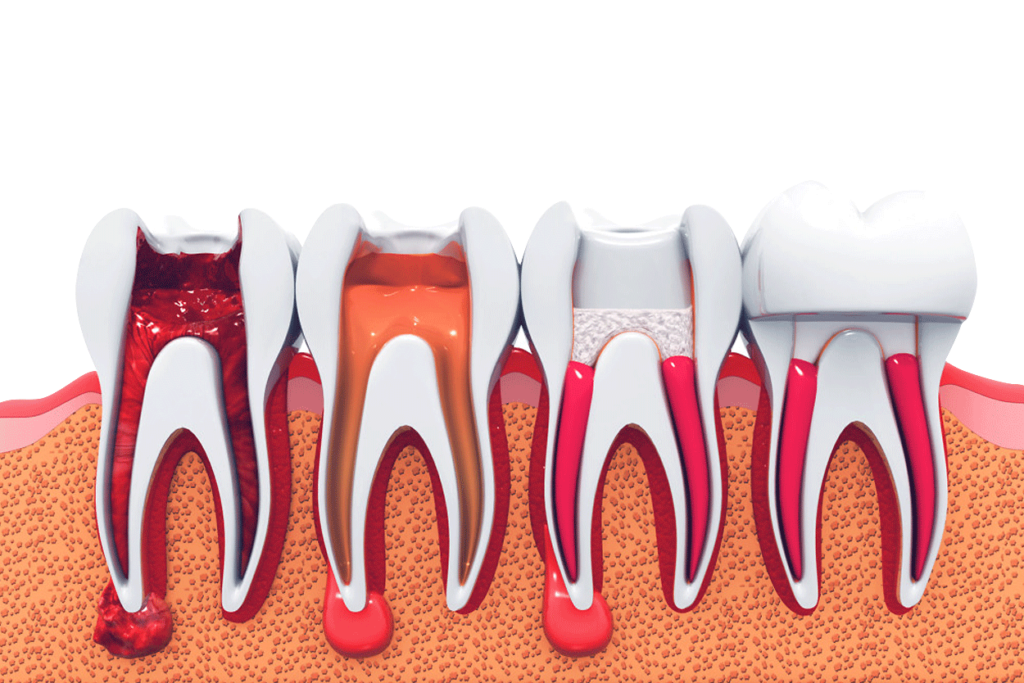 When should I see a Endodontist? 
No one enjoys having work done on their teeth and some even delay their bi-annual cleanings out of fear or reluctance to visit the dentist. But when it comes to real tooth pain, it's important to take care of it as soon as possible. You'll feel better and likely save your tooth.
If you're experiencing tooth pain, have injured your tooth, it's sensitive to hot or cold, and/or there is swelling around the teeth, gums or your face, make an appointment with an endodontist today. 
Your dentist may refer you to an endodontist — an expert at saving teeth with two or more years of specialised training above and beyond dental school. Endodontists diagnose tooth pain and perform procedures relating to the inside of your teeth.
What if I have more questions?
Book your first consultation now for an expert assessment. We will discuss the best treatment for you, including all the costs and payment plans upfront.
 If you have any more questions before booking, make sure to read our FAQs first. Just tap the button below.