Changing the face of braces since 1988
At Angle House Orthodontics & Specialist Dentistry, our friendly, highly experienced teams provide a range of services across our 11 London practices. London looks great when it smiles! Come and bring yours to a team who cares.
Spark aligners – the discreet and affordable solution
Spark aligners are almost invisible, making them a great option for client-facing professionals. These smooth, plastic aligners are custom made for your smile, and removable for meals and daily oral hygiene.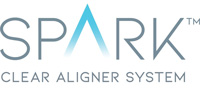 Invisalign® – the clear solution for straighter teeth
We are proud to be a leading provider of Invisalign® treatment for both children, teens and adults in North London. We offer treatment to children as young as 7 years of age. Find out how we can bring out the very best smile for you or your loved one.

Not sure which treatment is for you?
Get in touch and our friendly team will be happy to help.
Hear what our customers have to say about us
Want to know the word on the street about Angle House Orthodontics? Watch some reviews from our patients or head to our reviews page for more testimonials.
Our patients always leave with a smile
"The team at Angle House Ealing are out of this world amazing. Joyti has given me the greatest smile I could of ever wished for. And that's because she is genuinely dedicated to her patients and giving them a beautiful smile, even when I was being picky at the smallest of things. Angle House have made me a better me with a better smile and although I'm happy my Braces are off, I am going to miss our Thursday appointments and our chats and giggles."